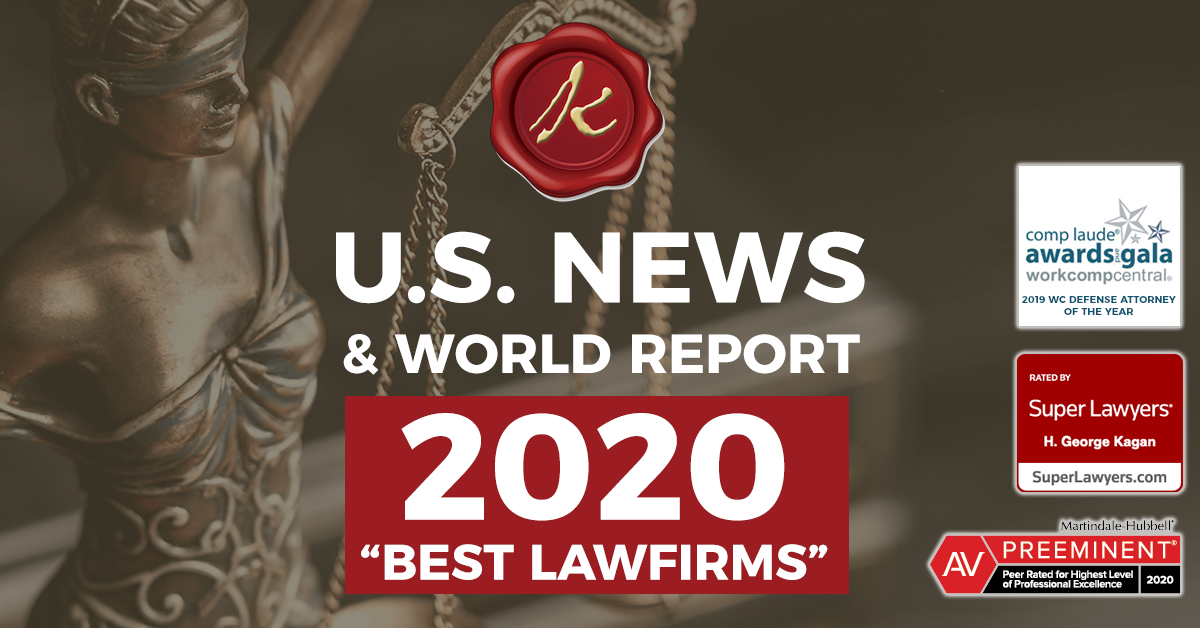 This Just In!
H. George Kagan is delighted -- and sincerely humbled – to announce for the second consecutive year his firm, H. George Kagan P.A., is among U.S. News & World Report's – "BEST LAW FIRMS 2020" Metro Tier 1 Rankings of Florida, Workers' Compensation, on behalf of the employer.  A few words are in order.
Only seven Law firms in Florida share this particular distinction.
U.S. News & World Report's – "BEST LAW FIRMS 2020" divides the state into ten regions: H. George Kagan P.A. is included within the "Fort Lauderdale" region (as is his former firm, MKRS Law, also one of the seven).   Parenthetically; geographical designation is no longer relevant in that the firm concentrates solely on Workers' Compensation appeals and consultations, a statewide practice by definition, one also maintaining Kagan's decades-long focus exclusively on behalf of Florida's employers and carriers.  About half the firm's referrals are from long-standing and new employer-carrier clients, and half are now from other fine Workers' Compensation defense firms throughout the state looking to partner on, or hand off appeals where circumstances warrant.  In this way, the firm has handled or has pending appeals from trials in Miami, Fort Lauderdale, West Palm Beach, Orlando, Tampa, Lakeland, St. Petersburg, Tallahassee, Pensacola, Naples and Jacksonville.
In his own right, H George Kagan continues to maintain his AV® Peer Review Rated Martindale-Hubbell listing, and has for 2020 been included again among 'THE BEST LAWYERS IN AMERICA®,' and 'Florida Super Lawyers®.'   Also, as announced last October, perhaps the pinnacle achievement of his career has been to receive the national WorkCompCentral® 2019 Comp Laude® Award With Honor, Defense Attorney, in Huntington Beach, California.
On a personal note: I view these fine things as a validation of the momentous decision two years ago to leave my former firm at this stage in a long career, a move which allowed me to concentrate on what I like doing best, as embodied in the motto I fashioned for the home page of my website day-one:  "Experienced.  Selective.  Focused.  Effective."
A simpler way of saying all this is:
Some claim I have 'a way with words.'   While that may or may not be so,  I will say the idea of a Kagan on the US Supreme Court no longer seems far-fetched!