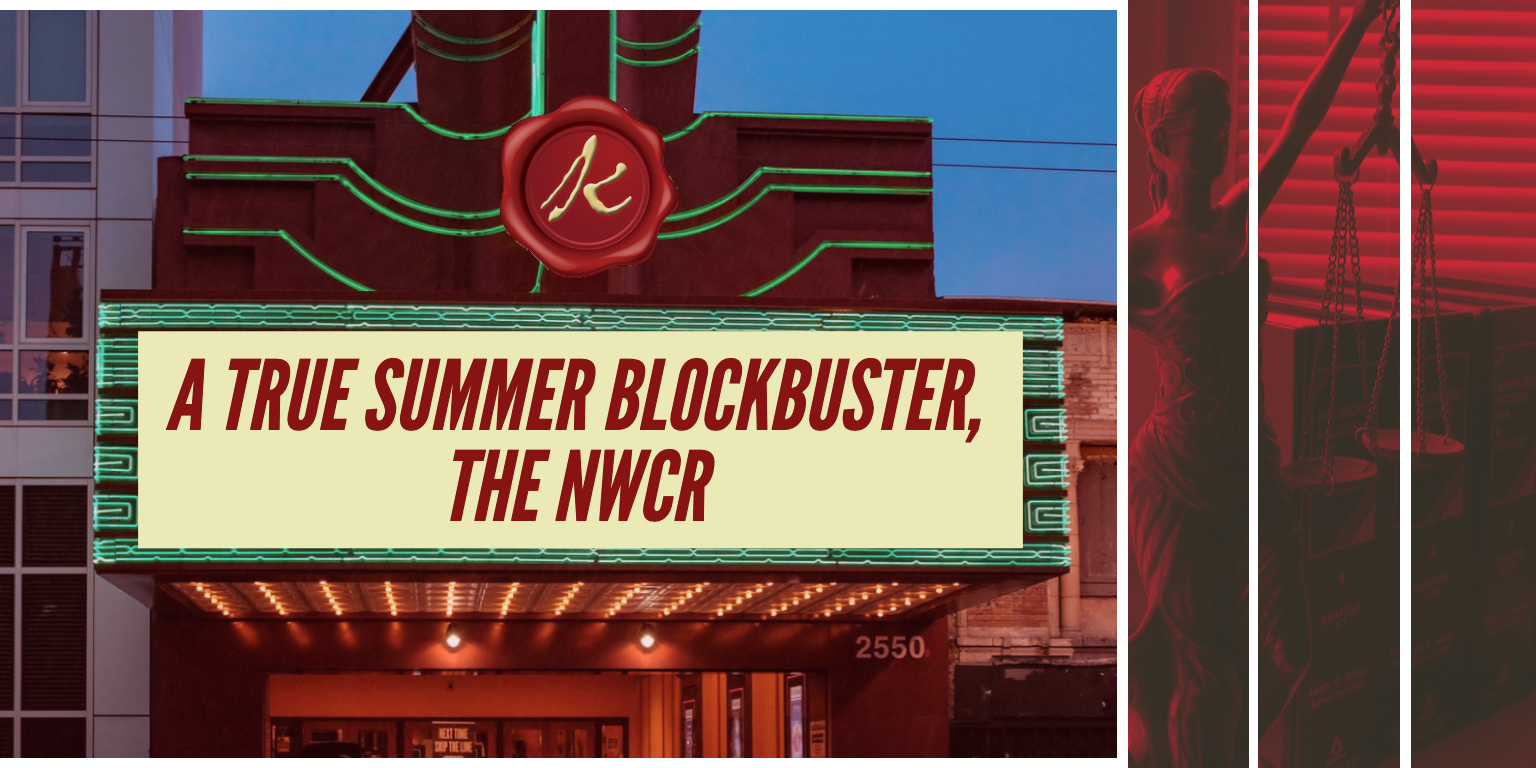 A TRUE summer blockbuster: National Workers' Compensation Review: 2019 edition reveal (including spoiler alerts)! August 12-14th, Orlando World Center Marriott
What is the NWCR? Brief History and mission statement:
One score less six years ago, our cochairs brought forth on this continent a new notion, conceived during my term as national Workers' Compensation Committee chair of DRI (leading national/international insurance/employer defense Association).   We needed a way to surmount the impediments facing most WC CLE presentations, namely, difficulty formulating national topics for an area of law uniquely decentralized among the 50 states and territories (including international representatives).  So why not create news and announce breakthroughs!  Our first presentation 14 years ago was a great success, attributable in large part to two outstanding fellows who immediately became and continue as my esteemed cochairs; Bill Pipkin of Mobile Alabama and Jim Anderson of Jackson Mississippi (that's us in the photo: left to right me, Jim, Bill). 
NWCR's mission: a commitment to excellence in furtherance of the interests of all WC stakeholders in medicine, law but especially industry and claims; or; 'how to, by those that do.'  NWCR does not merely instruct on the status quo but pushes boundaries, often via initially controversial new thinking and breakthroughs by acclaimed national scientific and medical leaders, so much so that we have expanded our motto to include: "Starting the conversation – – disseminating the impact."
NWCR has grown in stature by adherence to its core message (as you will plainly see in the attachment), with one major change: we were "adopted" by the incredible Jim McConnaughhay and Steve Rissman as part of their (WCI's) beyond-incredible Annual Workers' Compensation Educational Conference, which is no hyperbole given its now in its 74th year, having recent attendance figures exceeding 8000, with over 350 vendor booths!  It was a match made in heaven: the venerable "Florida" conference had outgrown its 'state' or even 'regional' scope -- and our NWCR was a perfect accompaniment toward enhancement of its newly national footprint.  We are now assisted by an excellent advisory board, and adherence to our bedrock principles has taken us from looking high and low for top-quality presentations each year to now, vetting overtures made to us!
NWCR 2019 edition No 'description' is necessary: simply gaze upon the just published full program link and see (1); the topics -- and (2); who is speaking to these topics -- to know all you need to know.  Here are some 'spoiler alerts' for a true summer blockbuster; 
2018 National Comp Laude ® Winner in the category of "medical professional" assembles a team she works with to help guide you on catastrophic claims;
Chief Judicial officer of all Florida Workers' Compensation judges (and editor of one of the best WC blogs) leads a program distilling best ideas nationally on where WC is headed;
Global Claims Analyst-Whole Foods shares how maintaining focuson the injured worker produces best outcomes for all;
Senior contributing editor for the AMA guides tackles head-on the painful subject of misdiagnosis and its effects.
Husband-and-wife MD team, published in Spine, who helped lead the battle against excessive drugging and surgeries speak on still-prevalent controversial syndromes and the latest on pushbacks.
Women WC leaders nationally discuss …. promoting more women WC leaders nationally!
And finally -- a source of great (but humble) pride for NWCR -- our unique Faith-Based program which began right here, now blossoming throughout the land through persistence and faith of our esteemed NWCR cochair Bill Pipkin.
The NWCR summer blockbuster plays only one venue: WCI's 74thANNUAL WORKERS' COMPENSATION EDUCATIONAL CONFERENCE (including appearances by Jake Owen [7 #1 Hits!] and Maria Taylor [analyst for ESPN], August 11 -- 14, Orlando world Center Marriott.  Our NWCR breakout within the larger conference is August 12-13th.  Register directly on the WCI website.   https://www.wci360.com/conference/
BYO popcorn -- and a notepad!