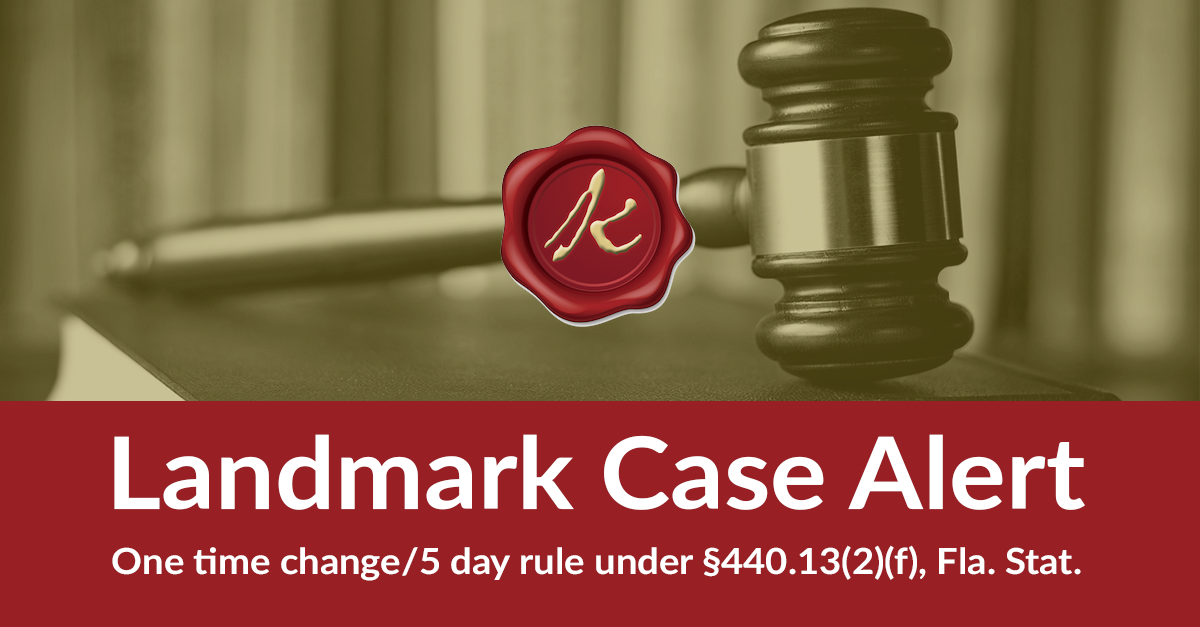 Subject:   'One time change/5 day' rule under §440.13(2)(f), Fla. Stat
Disruption Factor:  Mild – for now – pending Supreme Court construction on Certified Question
Upshot:   Modification (but not radical change) in construction of E/C's responsibility to act, for now.
Status;   Not final till rehearing period expires, but more important: case is certified to the Florida Supreme Court as a "question of great public importance."
             City Of Bartow and Commercial Risk Management v. Isidro Flores,  Case number 1D 18-1927.
What Happened:
Late in the day on the last day in May, Florida's First District Court of Appeal certified a question of great public importance to the Florida Supreme Court following its own modification of existing interpretation of the one-time change/5 day rule under §440.13(2)(f), Fla. Stat. 
Facts:
Long story (17 page opinion) short: claimant asked for one-time change and E/C counsel promptly wrote namingnew physician and advising it would get to work on an appointment, thus far in perfect keeping with the law.   It is important to add: the letter advised of deauthorization of then-current treating physician (I would interject: as they say, bad cases make bad law, and this fact likely contributed to the outcome).  
Despite communications back and forth, and E/C counsel averring the doctor's office wanted to review records etc., 29 days later claimant filed PFB naming his own physician, and then - 63 days after request and 56 days after E/C's receipt of it – E/C notified claimant of appointment.  Claimant rejected it went to hearing seeking his own choice.
The JCC found as a matter of (disputed) fact E/C did little for about a month before finally advising claimant of appointment 56 days after notice. Claimant was made to endure an "unreasonable delay," without care, until E/C's attempt to "provide" an alternate physician, and so forfeited its right of "selection." E/C appealed. The Court affirmed.
The Court's analysis in short: 
The Court acknowledged numerous cases hold the five-day rule speaks only to the naming of the newly authorized physician and not obligation to actually "acquire" an appointment (or indeed even communicate with physician's office).  But this leaves unanswered the question: how long may E/C take?  In this case claimant argued and the JCC found: 56 days – – while claimant was without care – – was too long and therefore:
The statute must be construed as having two time frames.  The first is the five-day rule we know about, and they leave it intact: the second is the period from notice of alternate physician – – until actually acquiring/advising of appointment.  The court does not give a hard, fast date but supports the JCC's finding of fact the time here was unreasonable under the circumstances found and thus E/C "forfeited its control."
For the Very Interested:
There was a dissent, marking a perfect illustration of the difference between a conservative or "strict constructionist" judge and a (my phrase) "bigger picture" judge. The majority opinion, authored by M.  K.  Thomas, acknowledges the statute had been construed as giving five days to notify claimant of E/C's choice but is open-ended after that, in terms of appointment date and notification thereof.  
The majority ruled: it is not in keeping with the expressly written (elsewhere in the Act) fundamental tenets of the act, which direct us to efficiently and expeditiously put benefits in the injured worker's hand, to allow an interpretation whereby claimant in essence waits indefinitely for an appointment (especially, here, without treatment) after E/C's initial "timely" compliance. 
The dissent argues: in keeping with E/C's contention, there is no due date written in the statute and therefore -- even though 56 days had gone by with no treatment – – the court was not empowered to write one in.
Present State and Federal administrations make no secret of the fact they are actively seeking to install judges with the latter frame of reference, and this case is going up at precisely the time the governor (last week) appointed two new and outwardly conservative Justices to the Supreme Court, so, we will have a real-time test, fairly soon, vis-à-vis our own little statute!  But: 'strict construction' is a knife that can cut two ways.  See the notes below on the potential here.
Parenthetically, request for one-time change was made June 20, 2017: this ruling comes 3 years later, and, certifies the matter to the Supreme Court: expeditious resolution is out of reach here.
HGK's Analysis: It could have been worse.  The result, so far (see Supreme Court note below) is not different from old cases (before miles were added to statute) that hold: offering a physician too far away is equivalent to not offering any (allowing Claimant's choice to stand).
First; reaffirming no appointment is required to be set within the five days is in an enormous pressure release valve!  BUT:
The But: the matter is certified, i.e. going to -- and automatically accepted by, the Supreme Court -- unless E/C either declines to take it (it is not commonly understood they may decide to stop right there: the case does not automatically walk itself to the Supreme Court: I have an excellent case illustrating this dynamic, details on request), or of course the case may settle, in which case the opinion freezes just as it is (until and unless someone takes the identical issue to the Court again).  But, given the exact wording of the certified question, it is conceivable the Supreme Court could impose an interpretation requiring all acts within five days: i.e., notice of alternate AND appointment date.  So it might be best, as a practical matter for claims, if the case stopped right there!
Second: another pressure release valve lies in E/C's opportunity to actually acquire the appointment beyond the five days, and even if it takes a 'long' time, to provide reasonable explanation: e.g., difficulties because of the pandemic, or hurricane warning, or retirement of doctor, etc., all may impact a JCC's "reasonableness" finding, which will be based on a competent substantial evidence standard.  (The court gives many examples on its own, but adds, urgency of need is one that may shorten the time, in N5).  
NOTE: I suggest E/C authorize original physician until effective hand-off, which not only 'seems' the right thing to do but would reduce pressure on both claimants and courts to act. (The statue has some play here: though seemingly implying deauthorization "upon" grant of change, the second "upon written notification" can suggest a second notification i.e. of deauthorization)
The big question one no one addressed. First, we know and the Court hints in its opinion, if claimant actually goes to a late-announced appointment, claimant waives right to select his own one-time change, but that did not occur here.  The big question is: what happens after E/C "recovers the fumble," i.e. claimant goes to own chosen physician, but then E/C resurfaces by naming, admittedly late, the alternate? Cases strongly suggest claimant must return to authorized care at that point.  That allows the employer to stop all treatment and/or disability assessments by such physician, the only residual damage being the physician's ability to give 'opinion testimony,' having been briefly "authorized" by operation of law.

This case does not touch on what happens "the day after" because claimant waited for JCC  approval to actually go to his choice, apparently unsure whether to do so earlier given E/C's initialcompliance.   There's also risk in a bad test case, and perhaps even this one (though less likely given it was not raised: but, the Supreme Court is being asked to define "forfeit its right of selection"), that the Court will say: once E/C's right to reassert medical control is forfeited it remains forfeited rather than upset newly (and properly) established physician-relationship.  

This case muddies the water a bit because the JCC awarded claimant's choice, which is the end of the matter so to speak.  However before a judicial determination, I'm sticking with the 'fumble recovery' interpretation, but please, if you become involved in this situation, choose good facts to go up on!
Because rehearing is possible (within 15 days) and because Supreme Court intervention is likely (but not a certainty), watch this space for further details!  
In the meantime, everybody, please be and stay safe!